From straw to liquid fuel
TU researchers succeed in conversion without additional energy
2022/06/14 by Paul Dieringer/Falko Marx
Researchers at TU Darmstadt have achieved an important success in the production of sustainable biofuels for the transport sector. With a new gasifier technology, they succeeded for the first time in the world in converting biogenic residues such as wheat straw into materially usable syngas without additional external energy. The process could help move the transport industry towards CO2 neutrality.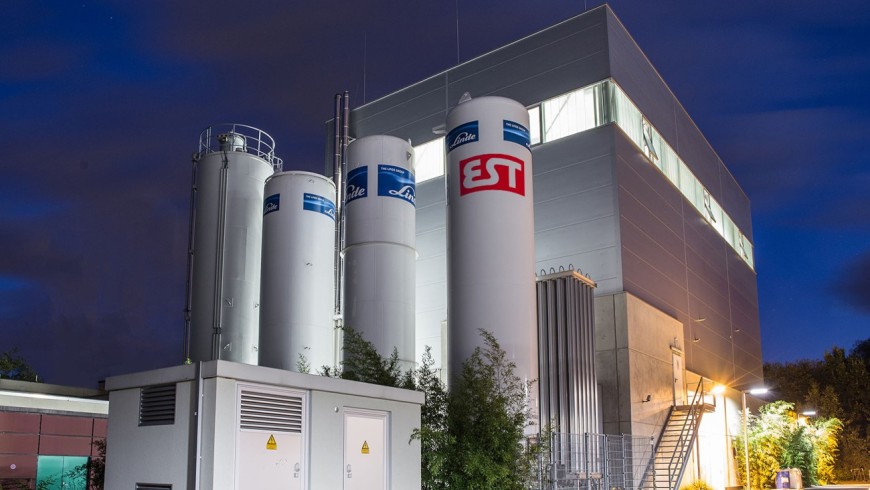 For this purpose, the scientists from the Institute of Energy Systems and Technology (EST), led by Professor Dr.-Ing. Bernd Epple, used the modular pilot plant with a capacity of one megawatt at the Lichtwiese Campus to demonstrate the entire process chain from raw biomass to liquid fuel. The research took place as part of the Horizon 2020 research project CLARA (Chemical Looping Gasification for Sustainable Production of Biofuels), which is coordinated by EST.
No need for costly pure oxygen
In gasification, substances are heated in a reactor (gasifier) and converted into gaseous products. An example of this process is coal gasification, in which synthesis products such as methanol are obtained from coal as a basic material for the chemical industry – a process that is still widespread outside Europe. Gasification of waste materials to synthesis gases is a way to make the carbon contained usable as a basis for new chemicals.
The main advantage of the novel gasifier technology is that the oxygen required for efficient conversion of feedstock is provided by the cyclic reduction and oxidation of an abundant, non-toxic metal oxide. Therefore, the gasifier concept does not rely on costly pure oxygen, which is usually required for gasification processes. Furthermore, the technology enables efficient separation of the carbon dioxide formed during the gasification step from the product gas in the downstream syngas purification plant, so that the entire process chain from biomass to fuel has a negative carbon footprint.
The goal is large-scale implementation
As the next steps, those involved in the CLARA project are planning two further test series with the pilot plant on a one-MWth scale. On the one hand, they want to optimise the gasification operation. Secondly, the following process steps are to be demonstrated: the aftertreatment and purification of the synthesis gas obtained and the final synthesis of liquid fuels. If the development continues to be successful, the process could eventually be implemented on a large scale.
The aim of the CLARA Horizon 2020 project is to develop a concept for the production of biofuels through "chemical looping gasification" of biogenic residues. Through cutting-edge research and interdisciplinary cooperation, the CLARA consortium, which consists of 13 international members, led by TU Darmstadt, is investigating the entire chain from biomass to fuel. This will lay the foundation for the novel gasification process Chemical Looping Gasification towards market maturity. The project is funded by the European Union with a volume of almost five million euros in the Horizon 2020 framework programme.
Other project partners
repotec, Chalmers University of Technology, Agencia Estatal Consejo Superior de Investigaciones Científicas, RWE Power AG, Fundación CENER-CIEMAT, University of L'Aquila – Department of Industrial Engineering, Vienna University of Technology, Forschungszentrum Jülich GmbH, AB TORKAPPARATER, University of Ulster, Centre for Research and Technology Hellas, Unipetrol Centre for Research and Education